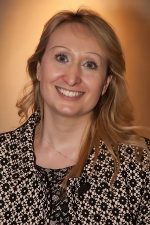 LLP Designated Member
London
Marina D' Angerio is an ICAEW Chartered Accountant, a Qualified Auditor and Tax Consultant and a designated partner of Ascheri Nelson Llp. Marina is also a Dottore Commercialista registered at the Institute of the Chartered Accountant in Italy.
Marina acts for a mixed portfolio of clients from start-ups to large groups of companies with an expertise covering not only accounting, audit and tax matters, but also in all areas of contract law (including cross-border), along with one-off business operations, M&As, estate planning, asset protection and business restructuring while helping clients make informed decisions about their own financial planning.
Marina is also the director of D&M Accountancy Ltd and has worked as a Chartered Accountant for Ascheri&Partners Ltd, a tax consultancy firm. Marina is also a speaker in various conferences organised by Ascheri Academy in Italy and UK.She has completed a master's degree in Accounting, Finance and Audit at the University of Turin, Italy and has moved to the UK in 2011.